Hey pretty girls! It's Monday and Carrie, Whitney and I are hosting our regular Monday link up ~
A Lovely Little à La Mode Link Up
, so link up with us below or check out some of the wonderful bloggers and be inspired! Also, use the hashtag #lovelylittlealamode on social media if you link up!
Do you have a celebrity that you feel embodies "your style?" I have several :) But one of my all-time faves is Reece Witherspoon. her casual, classic, seemingly
effortless
style is right up my alley! Let's take a look at some things we can learn from Ms Witherspoon-Toth (she's still married to to him, right?!)
Style Lesson #1 ~ Casual doesn't have to mean frumpy.
Reece is a busy, working mom and sure she has people to help her out, but I feel like her street style is very REAL.
It's simple and casual, but she always looks put together. Shorts, a cute sweater and a necklace--adorable! Jeans and a striped top--can't go wrong! Easy outfits that can get you out of the door quickly, but look like you made an effort.
Style Lesson #2 ~ Wear color!
Reece is the queen of color! She does color SO WELL. And it's not crazy or outlandish-type color that she wears. Choosing ONE item for a color pop is great strategy. Below she does colored pants, bright sweaters and a neutral outfit with those to-die-for pink heels!
Style Lesson #3 ~ When in doubt, jeans.
So much of Reece's street style is jeans. She's a girl after my own heart because I am a total jeans gal. Jeans can be dressed up or down, they are super comfy and go with everything! Jeans for the win! She pairs her jeans with cute, patterned tops, awesome shoes and fun bags.
Style Lesson #4 ~ Sunglasses. All the time.
She's a Southern girl who (i'm assuming) also
spends quite a bit of time in LA--so girlfriend knows how to rock her shades. There are very few picture of her withOUT sunglasses, actually! And this is where Reece and I connect again--i wear my sunglasses year-round, almost every time I am outside (unless it's raining, which is hasn't in forever here in Northern California). Sunglasses can hide a multitude of sins, lemme tell you! From tired eyes., wrinkles, fine lines, bags, tears! I literally cannot leave the house without my sunglasses either, Reece!
Style Lesson #5: Style doesn't have to be complicated.
Like I said before, Reece's style is very simple and effortless. She is a great example of how simple, classic pieces come together to look so put together and
practical
for a busy mom. Great fitting button downs, sweaters, jeans, a nice handbag and maybe a little delicate jewelry is all you need to recreate these looks below!
I just love Reece's style! Here are a couple of my (loose) recreations of her outfits ~
I love this super laid back outfit because of the comfort factor. It's almost feels like wearing sweats, but slightly more polished :). I love my chinos (read post
HERE
) and these Frankie Chinos from J Crew Factory might be the most comfy pants on on the planet.
(Style Lessons 1, 4 & 5)
Olive Chinos: J Crew Factory (
exact,
in vintage surplus)
Gray Top: Kohls/Mudd (
similar,
in grey urban)
Converse: Nordstrom (
exact
)
Bag: Nordstrom (
very similar
)
Bar Necklace: Stella & Dot (
exact
)
Short Pendant Necklace: Stella & Dot (
exact
)
Although I don't have those amazing pink heels, I added my color/pattern pop with a red belt and leopard heels. Colored flats would also be cute and probably more practical for every day
(Style Lessons 1, 2, 3, 4 & 5!)
Top: Express (
exact
in True White)
Jeans: Target (
exact
)
Bag: Charming Charlie (
similar
)
What do you guys think of Reece's casual mom style?
Time to link up!
Hosted by ~
Each week we choose a favorite...check out
Carrie
and
Whitney's
blogs to see if it's you! Here was my favorite this week ~ Shea from
Shea Lennon
shows 3 super cute ways to wear white jeans. I LOVE wearing my white jeans year-round and I love her cute, simple, put-together outfits! See her original post
HERE.
Now let's get linking! We like to keep things simple around here. Just link up your favorite posts--fashion, beauty, food, DIY, anything goes! Follow your hosts on social media, have fun and be inspired! Use the hashtag #lovelylittlealamode on your social media posts! Thanks for linking up!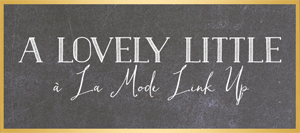 <a href="http://www.alittlebitofcheer.com" target="_blank"><img src="http://i1212.photobucket.com/albums/cc454/pianoprincessdesigns/button%20small_zpsujefyz2q.png~original" alt="A Lovely Little À La Mode Link Up" width="125" height="125" /></a>
Don't forget to follow
A Little Bit of Cheer
on Facebook
HERE
Follow me on Instagram
HERE
Follow any of my boards on Pinterest
HERE
Follow me on Bloglovin'
HERE
See where I link up
HERE